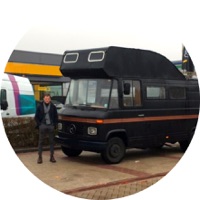 Hi, I'm Jim Belt and I own a 1974 Mercedes L508D. I love old vans, especially MBs - and I plan to live in one.
Besides vans I really enjoy sailing, outdoor sports in general, and also caving (which is a very peculiar sport, but also very challenging). When I live in my van I plan on doing all of these things a lot more.
Buying this old van was the start of a love for van restoration (buying any car over 20 years implies restoration projects), customizing it, traveling, and also #vanlife (I know, I'm one of these people now).
Nevertheless, when planning my conversion layout, I found it very difficult to find any detailed interior dimensions. You really have to dig through a lot of car brands' brochures, which is a bore. I thought: how many people have done this already, and how many will follow?' - and so I came up with a plan.
Since putting the info on the internet in one place isn't hard, and I was already doing the research, I've started posting articles on each van I checked out. I love data and tables (it's sad) so I didn't mind.
And now I'm very proud on this great resource. I hope it's helpful to you.